Vail Veterans Program – 15 Years of Service to Wounded Veterans and their Families
November 8, 2019
In advance of Veterans Day, we invited veteran advocate, Outstanding Civilian Service Award and Public Service Medal recipient, and Founder and Board Chair of one of our longtime military charity partners, Vail Veterans Program, to discuss the story of her organization and the important role of community in coming together to support our nation's veterans. In this blog feature, Cheryl Jensen discusses the inspiration behind the founding of Vail Veterans Program, shares some stories from a few special participants and reflects on the impact their programs have had over now more than 15 years in operation.
The war in Iraq had begun in March of 2003 just as the snow began to melt high in the Rocky Mountains of Colorado. In October of that year, I found myself in Washington, D.C. meeting with my contact at the Pentagon regarding a crazy idea I had come up with of sending gently used ski resort uniform jackets to much-needed areas of the world through the Denton Program. During this trip, my Pentagon contact had invited me to dinner one evening where I met Cheryl Barnes, a bubbly and inspirational woman, who shared with us her emotional day at work at Walter Reed. As she spoke, I interrupted her to ask, "What is Walter Reed?" She quickly replied, "It is our Army hospital where injured men and women from the war in Iraq are receiving care." She then further shared, "There are so many young service men and women with severe injuries from the war. They all are so young and looked so frightened." As I absorbed the gravity of what she was saying, I simply replied, "Let's bring them skiing." She looked at me as though I had not been listening as she reminded me that many were missing limbs. But as a former adaptive ski instructor, I knew the confidence that people gained the minute they were flying down the ski slopes in a mono-ski or other type of adaptive equipment. Thus, the seed was planted that evening, but I had no idea how I was going make it happen.
As fate would have it, two months later at a cocktail party in Vail, Colorado I met Captain Dave Rozelle, who had lost his leg in Iraq just months before. I told him of my idea and he said, "You raise the money and organize it, and I will get you wounded soldiers." I made phone calls to Gen. Pete Dawkins (Ret.), Ross Perot, Vail Resorts, Continental Airlines and businesses in the Vail community, who all pitched in and lent the support needed to host seven wounded warriors for what was to be a "one-time" program. Little did we know the impact we would have on those seven individuals.
In March of 2004, an entire community in the heart of the Rocky Mountains was excited for the arrival of seven of our nation's heroes from Walter Reed Army Medical Center. Upon arrival, the veterans who attended were quiet and pale from time spent inside the hospital. They also seemed very nervous about what the next few days would hold – little did they know that we were nervous too. After the group settled into their rooms, we hosted a dinner where they shared their life stories and deep concerns of finding a new normal after their injuries. The next morning the Vail Adaptive Ski School instructors met each of the wounded warriors with whom they would be spending the next three days.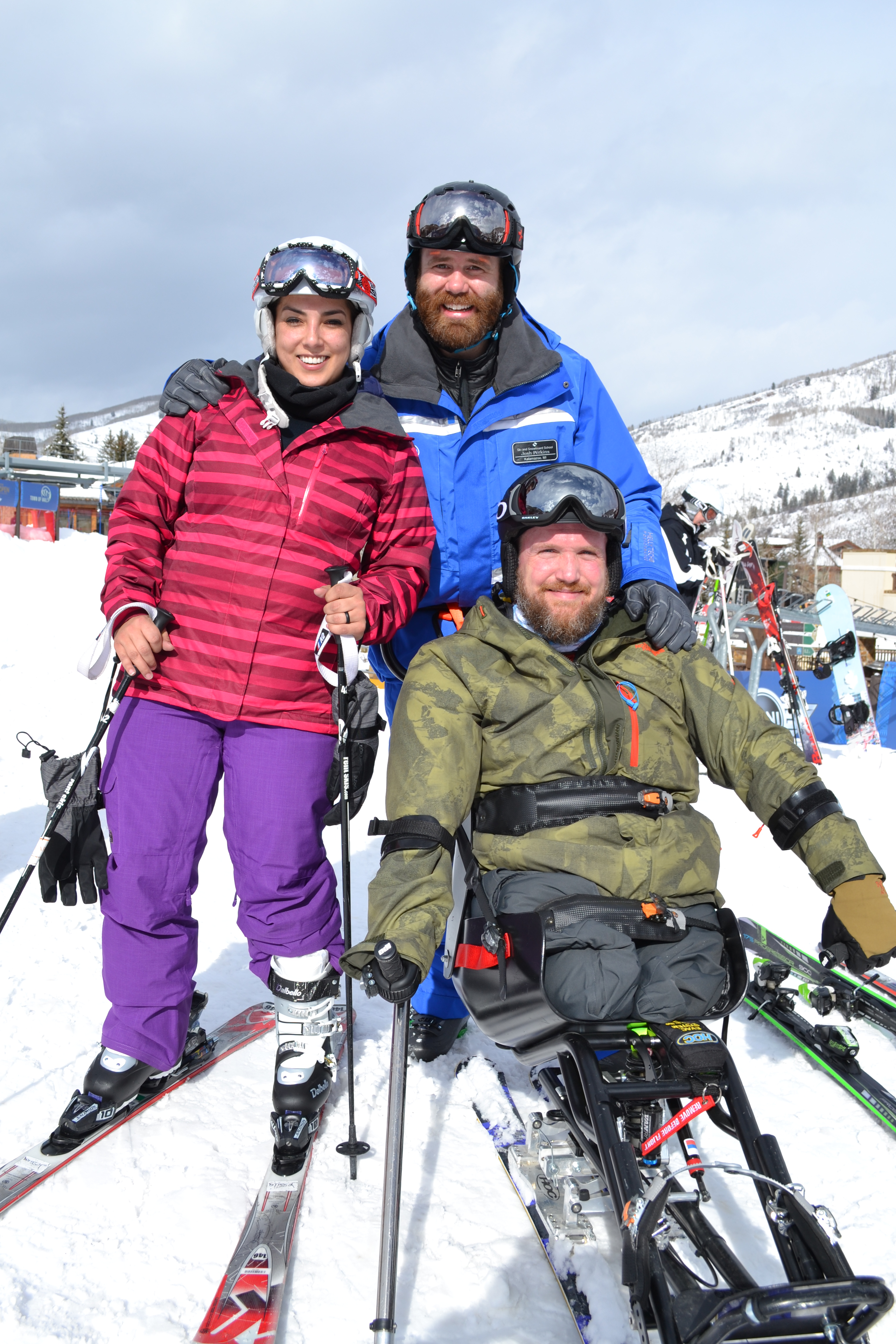 All of the warriors were fitted with adaptive ski equipment, with the exception of one wounded warrior that wanted to learn to snowboard despite having lost both of his legs above the knee. Staff Sgt. Heath Calhoun was determined to snowboard as many of his fellow warriors at Walter Reed had told him that there was no way he was going be able to do it given his injuries. Heath was determined to prove them wrong, and went on to spend two days with his instructor tirelessly trying to make a toe-side and heel-side turn. At the end of the two days, he had finally done it – a success! Exhausted on the third day, Heath opted to try mono-skiing instead – a moment that would forever change his life as well as the direction of our organization. He took to mono-skiing as though he had done it all his life. The last night of our event, he said to me, "Ma'am, I am not sure why you all did this for us, but you changed my life." Those words touched my heart deeply and at that moment, I realized that we had created something special.
The following year we had the honor of hosting another group of wounded warriors along with a very special guest, Joyce Rumsfeld. Joyce wanted to attend the program to hear the stories of our nation's heroes directly and one-on-one. Joyce fit right into the group and the following year she wanted to attend again, this time bringing along her husband, then Secretary of Defense Don Rumsfeld. It was a special few days watching the Rumsfelds listen to difficult stories about the wounds of war, but also hearing light-hearted memories about the participant's families and experiences on the mountain that day.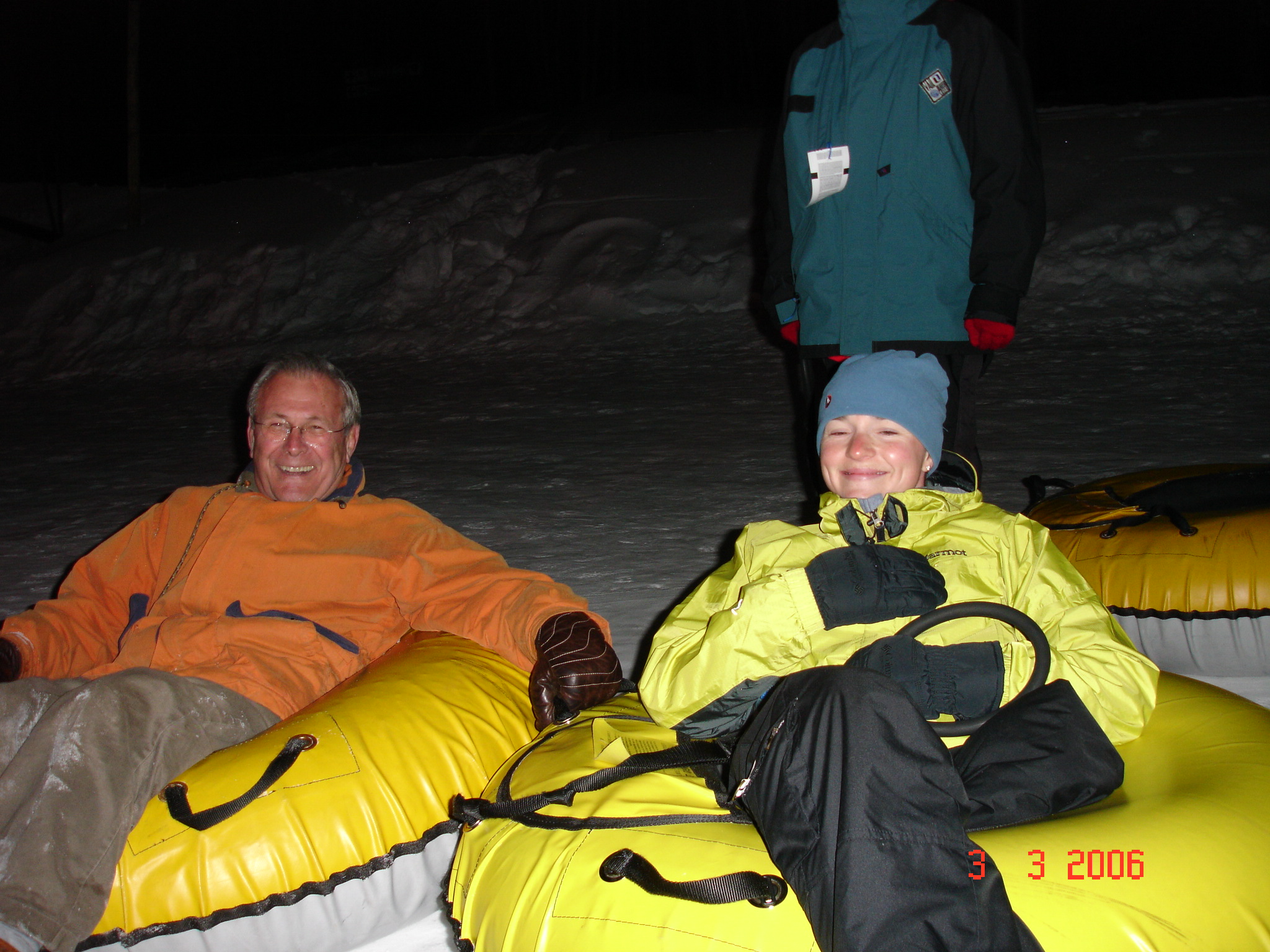 Joyce and Don even enjoyed a night of snowtubing with the group which brought huge smiles to everyone's faces. On the last night of the event, the Vail Fire Department hosted a homemade lasagna dinner in the firehouse truck bay. It was then that a tradition of sliding down the firepole began. Joyce was initially apprehensive to attempt the 3-story firepole, as were the Secret Service agents accompanying her, but at the encouragement of all of the wounded warriors, she mustered the courage and slid down the pole, as did Don. The below photo of Joyce from this memorable evening even made it in Don's memoir, Known and Unknown.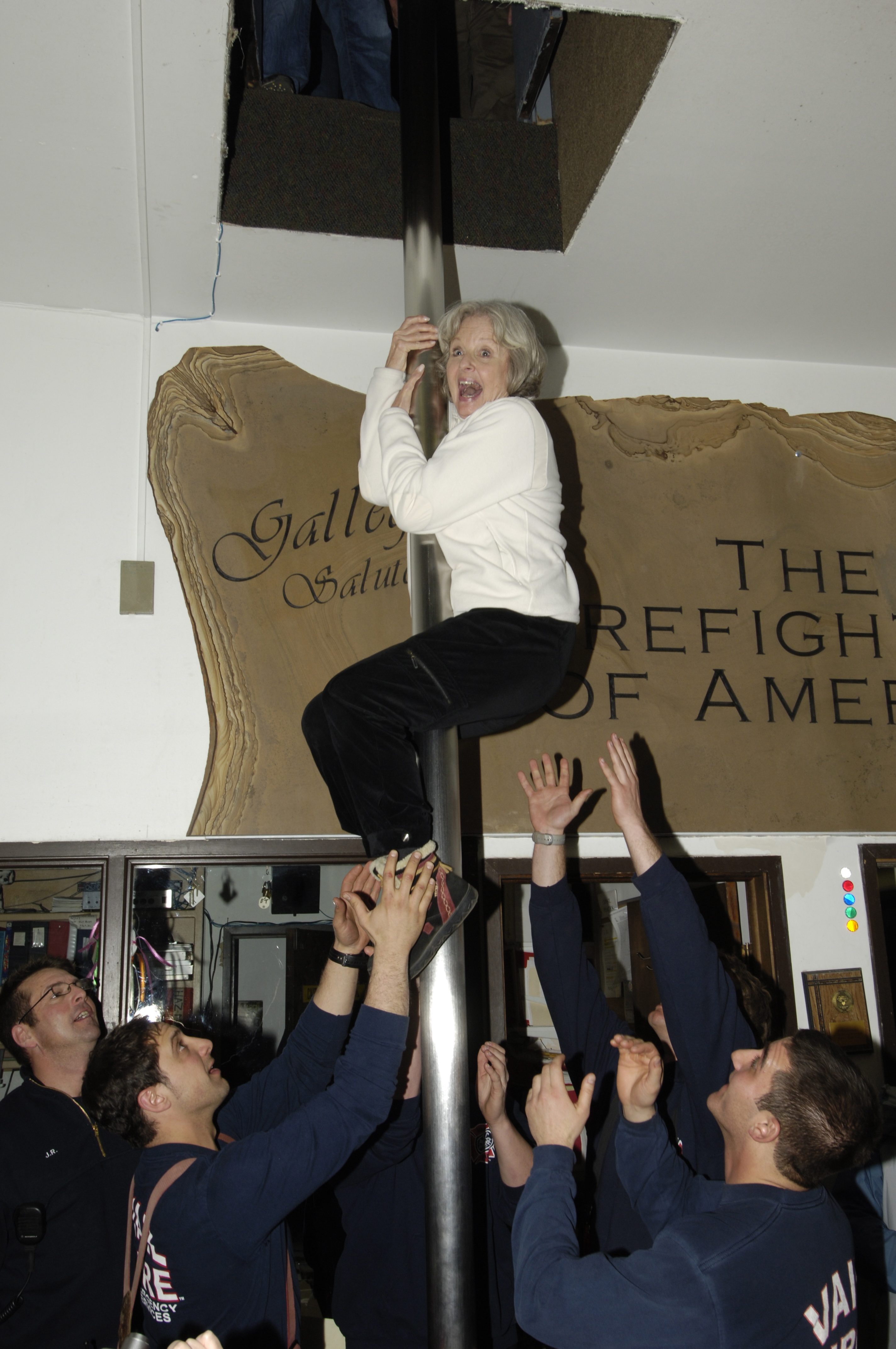 At the end of that program, the veterans who had participated shared that we had changed their lives. One commented, "I am not here to focus on my disability, I am here to focus on what my NEW abilities are in life." They were all searching for a new normal and we were able to give them some of the tools they needed to discover that.
Since 2004, Vail Veterans Program has continued to build and offer innovative programs that provide much needed support for injured veterans and their families, all free of charge. Our programming now includes Military Caregiver Retreats, Veterans Path to Success programs, adaptive sports and family support programs. We are NOT a one and done organization. Our goal is to provide programming that has lasting positive impacts for our alumni as well as for the new patient wounded warrior population with our partner hospitals – Walter Reed National Military Medical Center, The Center for Intrepid – Brooke Army Medical Center and the Naval Medical Center Balboa.
As we commemorate our 15-year anniversary this year, we are honored to have hosted approximately 3,000 veterans and their families with the support of the Rumsfeld Foundation and other corporate and private donors. Since 2004, Vail Veterans Program has raised just over $15 million to provide transformational programs to injured veterans, helping to empower their lives forever.
Our programs are life-changing for those that attend and life-saving for many as they struggle to define their life purpose after military service. These American heroes work hard every day to overcome life challenges after suffering severe physical injuries and/or invisible wounds. We provide them with the encouragement and tools that they need to discover that ANYTHING is possible.
To circle back to Heath Calhoun, one of our early participants, he went on to ski in the Paralympic Games in Vancouver in 2010 and Sochi in 2014, a tribute to the power of adaptive sports!
Vail Veterans Program is successful because of the support of our mountain community who deeply care about the veterans and their families who attend our programs from across our great nation.
"I'll never forget the sense of community I felt when I first skied with Vail Veterans Program (VVP) in 2015. The hardships that veterans face overseas often create a disconnection when we return home. Attending a program with VVP is so much more than just a fun vacation — it provides returning veterans with a sense of hope that is fostered by overcoming new challenges and connecting with the Vail Valley community." 1LT Andrew Kinard (Ret.)
Thank you to all those that have supported these life-changing programs in a Colorado mountain town named Vail.